Get a FREE custom quote!
or fill out a form today!
Recycling in Connecticut that Puts You First
Casella is your reliable source for recycling in Connecticut that's dedicated to keeping your neighborhood clean and green for years to come. When it comes to waste resource solutions, turn to Casella. Since 1975, we've offered collection, transfer, disposal, recycling and more to the eastern United States. Contact Casella if you're ready to adopt a new recycling program with your Recycling Service in Connecticut.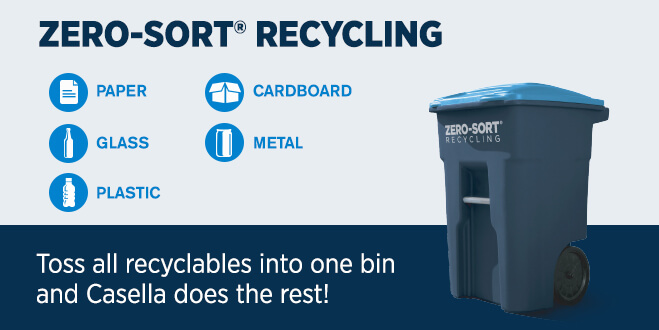 Make the Most of Recycling Service in Connecticut
At Casella, we believe that renewing the life-cycle of waste through Recycling Service in Connecticut is an integral part of managing today's waste. Our recycling in Connecticut is built upon the same solid foundation of reliable service and quality customer care that grounds all Casella waste control services. At Casella, we want to play a role in creating a greener tomorrow, which is why we have state-of-the-art-facilities and innovative programs to help us breath new life into unwanted materials.
More than Just Recycling Services in Connecticut
Casella provides full service waste control solutions, in addition to our basic recycling service in Connecticut. We provide dependable trash pick up and can also supply any size roll off trash dumpsters you might need. Our commitment to building a cleaner, greener Connecticut is just one of the things that sets our recycling in Connecticut apart from the competition.
Casella Provides a Range of Solutions Including Recycling Service in Connecticut that:
Save Time

– We'll evaluate your recycling needs and set up a system that helps you achieve your goals

Save Money

– It's less expensive to recycle, because we help divert your resources from landfills

Save Effort

– We can take care of your solid waste, so you aren't left holding the bag
* Call us today to see if Zero-Sort® recycling is available in your area