Liquid Services
Made Easy
Get a FREE custom quote!
or fill out a form today!
Comprehensive Liquid Services from Casella
Established in 1975, Casella Waste Systems is now a recognized leader in the solid waste industry. Explore our extensive array of top-tier liquid services, including septic tank pumping and portable toilet rentals.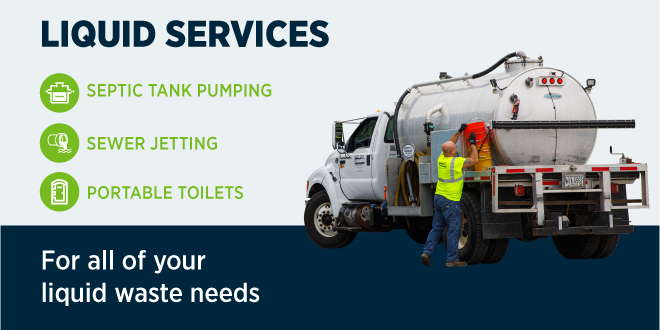 Septic Tank Pumping
Casella is your reliable expert for septic tank pumping. Understanding the crucial nature of clean and functional septic systems, we provide swift and effective services to tackle problematic buildups, preventing premature system failures caused by the accumulation and blockage of sludge and scum.

Armed with the latest tools and strategies, our skilled professionals first conduct a thorough inspection and pumping of your septic tank. If your tank contains an excessive amount of waste or lacks the necessary bacteria, we employ all our knowledge and skills to assess sludge levels, scrutinize every relevant mechanism, and check the drain field for suitable percolation. Choose Casella for smart waste management and put your tank in expert hands. Call us today.
Sewer Jetting
For top-notch hot water, high-pressure sewer jetting services, rely on the seasoned experts at Casella. Recognizing the importance of clean and efficient sewer lines, we effectively combat stubborn buildups and guarantee optimal system performance. Our advanced equipment and know-how help prevent issues like blockages and clogging, thus protecting against premature system failure. Call us today and entrust your sewer lines to our professional team.
Portable Toilet Rentals
For trustworthy portable toilet services, your local Casella is the right choice. We acknowledge that event or job site planning involves a lot of effort, so we aim to simplify toilet rentals by providing various efficient solutions at competitive rates.

We provide both standard and barrier-free toilets suitable for job sites and residential use, as well as special event units designed for large gatherings like weddings, parties, and concerts.
Our basic special event unit, equipped with a sink station, is usually onsite for less than a week.
Additionally, you can upgrade to our premium trailer unit, The Crowd Pleaser, featuring amenities like flushable toilets, running water, air conditioning, and heat, all resembling a hotel restroom.
Make sure your guests or workers enjoy comfort and hygiene with Casella's portable restrooms and eco-friendly services. Contact us to request a quote or for more information.
Sustainable Solutions
Since its establishment in 1975, Casella has become the leading solid waste services company in the Northeast, specializing in collection, transfer, disposal, recycling, and resource management services. When our residential and commercial customers need septic tank pumping or other liquid services, they can rely on Casella's expert service.