Get a FREE custom quote!
or fill out a form today!
Recycling in Boston
Casella provides recycling in Boston to a wide range of clients, including residents, municipalities and businesses. We have a reputation for providing recycling that is prompt, reliable and efficient. In fact, you'll discover it in any of our services like the Zero-Sort® recycling program, a single bin solution that takes the hassle of sorting out of recycling. Call to arrange your recycling in Boston from Casella, today.
Ready to get started? Simply fill out our online form or call us today at 617-765-4780 to find out more.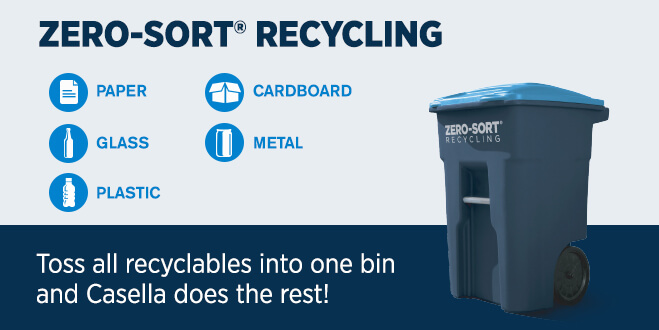 Recycling in Boston Made Easy With Casella!
Contracting recycling in Boston is an important, environmentally responsible action. By investing in the next generation of recycling technologies, Casella can continue to provide the exceptional recycling in Boston that our clients have come to expect. Casella looks to provide outstanding recycling in Boston that customers will value most.
Find Out How Zero-Sort® Recycling Means Zero Stress
Want to find a recycling service in Boston, but hate having to sort your recyclables? Our Zero-Sort® recycling makes it easier for you to recycle, by providing you with a larger bin that accepts all recyclables. Contact Casella today if you need to recycle paper, cardboard aluminum, plastic bottles, glass bottles or tin cans.
Saves Time – We'll evaluate your recycling needs and set up a system that helps you achieve your goals
Saves Money – It's less expensive to recycle, because we help divert your resources from landfills
Saves Effort – We can take care of your solid waste, so you aren't left holding the bag
Casella's recycling in Boston constantly makes more from less. We do the sorting for you at one of seven of our material processing facilities that are Zero-Sort® recycling equipped. Our recycling service in Boston take up less energy, maintain our natural resources and reduce the waste production.
In addition to wanting to ensure that your home or place of business is tidy and sanitary, at Casella, we also believe in doing our best to create a better environment. For over 40 years, we've earned a reputation for efficient service, environment-friendly policies and a commitment to put the community first.
* Call us today to see if Zero-Sort® recycling is available in your area