Get a FREE custom quote!
Call 607-216-9019
or fill out a form today!
Recycling Service in Cortland that Saves You from Sorting
If contracting an innovative recycling provider in Cortland is an important part of your environmentally friendly waste strategy, Casella is the ideal choice. With the help of our state-of-the-art recycling facilities, we've taken a critical step towards creating a more sustainable environment by means of collecting, sorting and renewing the lifecycle of materials. Casella provides outstanding recycling in Cortland that customers value the most.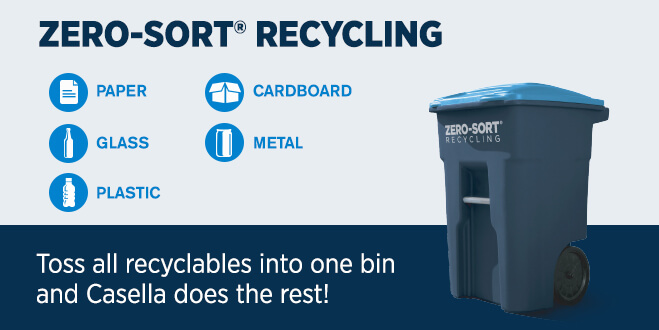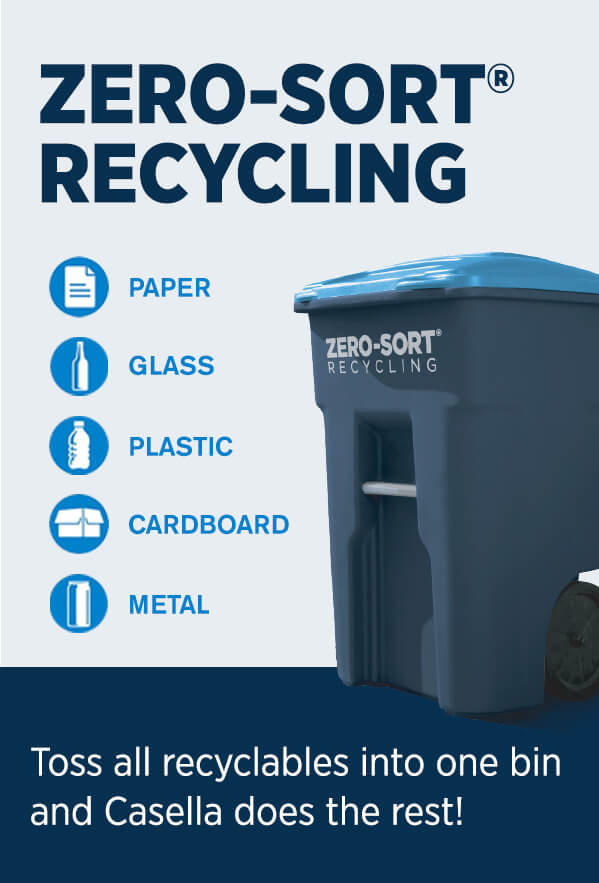 Recycling in Cortland that Goes a Long Way
So, how does one achieve industry leadership for recycling services in Cortland? By being an innovator offering residential and municipal environmentally friendly recycling service in Cortland that puts all materials to good use - that's how it's done! In fact, you'll discover it in any of our services like the Zero-Sort® recycling program, a single bin solution that takes the hassle of sorting out of recycling. Together, we can help transform waste into a resource - Call Casella recycling service in Cortland today!
Ready to get started? Simply fill out our online form or call us today at 607-216-9019 to find out more.
Find Out How Zero-Sort® Recycling Means Zero Stress
Casella's recycling in Cortland recycles out of the waste flow and creates one less pound of waste that is mined, smelt or mill. Zero-Sort® recycling from Casella, is the fast and easy way to recycle, because we do the sorting for you! Zero-Sort® eligible recyclables include: We provide recycling services for both home and office and accept the following: paper, cardboard aluminum, plastic bottles, glass bottles or tin cans.
Saves Time – We'll evaluate your recycling needs and set up a system that helps you achieve your goals
Saves Money – It's less expensive to recycle, because we help divert your resources from landfills
Saves Effort – We can take care of your solid waste, so you aren't left holding the bag
Casella's recycling in Cortland provides more with less. Every pound of waste gains new purpose. We make cans into more cans, we transform paper to insulation and steel becomes a part of cars! Casella recycling in Cortland strives to save energy and protect nature by effectively recycling the waste generated.
You can expect Casella to provide you with an extremely smooth sailing transition when you switch to our recycling in Cortland. We provide innovative waste control solutions intended to help provide a cleaner, greener environment, while delivering recycling in Cortland that provides you with an easier, better customer experience.
* Call us today to see if Zero-Sort® recycling is available in your area