Get a FREE custom quote!
Call 607-216-9019
or fill out a form today!
Make a Difference with Recycling Service in Newfield
The innovative method to our recycling service in Newfield is a vital stage in renewing waste. By investing in the next generation of recycling technologies, Casella can continue to provide the exceptional recycling in Newfield that our clients have come to expect. Casella looks to provide outstanding recycling in Newfield that customers will value most.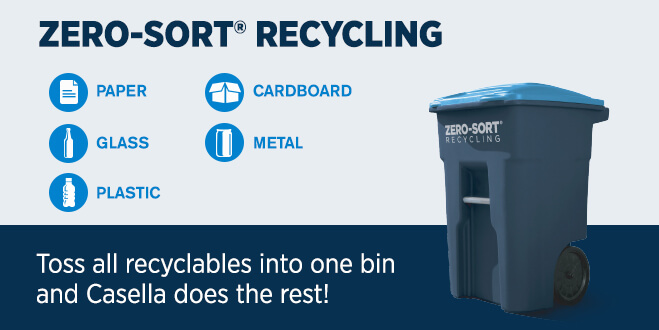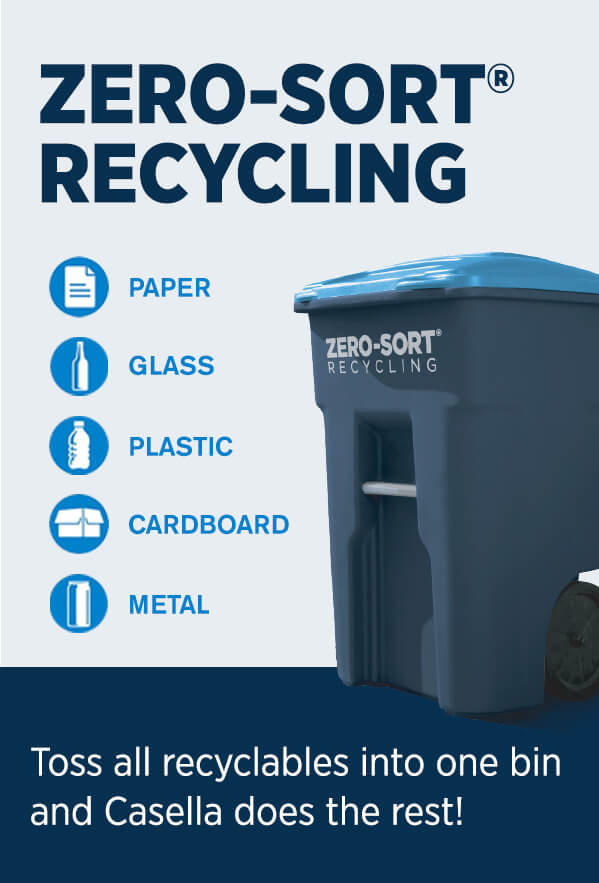 Recycling in Newfield that Goes a Long Way
Over the years, Casella has become a local waste control leader, providing innovative recycling services in Newfield. Our recycling service in Newfield place an emphasis on innovation and ensuring that more people take part in helping to sustain our environment. One such example is Zero-Sort® recycling, a program that takes the hassle out of sorting through recyclables for our customers; all you have to do is make sure it gets into the bin, and we do the rest. Together, we can help transform waste into a resource - Call Casella recycling service in Newfield today!
Ready to get started? Simply fill out our online form or call us today at 607-216-9019 to find out more.
Find Out How Zero-Sort® Recycling Means Zero Stress
Want to find a recycling service in Newfield, but hate having to sort your recyclables? Every pound recycled is one less pound buried or burnt. Casella is your best option in renewing our planet's valuable resources through the recycling of materials such as: Casella's recycling programs for both home and office accept paper, cardboard, aluminum, plastic bottles, glass bottles or tin cans.
Saves Time – We'll evaluate your recycling needs and set up a system that helps you achieve your goals
Saves Money – It's less expensive to recycle, because we help divert your resources from landfills
Saves Effort – We can take care of your solid waste, so you aren't left holding the bag
Casella's recycling in Newfield constantly makes more from less. Recycling cans of paper can produce more cans of insulation, and recycled cans of steel can make vehicle doors and parts. Casella recycling in Newfield strives to save energy and protect nature by effectively recycling the waste generated.
You can expect Casella to provide you with an extremely smooth sailing transition when you switch to our recycling in Newfield. We provide sustainable solutions to waste control and are dedicated to ensuring that all of our customers, both residential and business enjoy the very best customer service experience around.
* Call us today to see if Zero-Sort® recycling is available in your area