Get a FREE custom quote!
or fill out a form today!
Convenient and Affordable Recycling in Newfield
How do you become one of the leaders in recycling in Newfield? Simply by being innovative, offering municipalities and residents environmentally responsible recycling in Newfield that has provided new life and purpose to waste. We offer comprehensive services like Zero-Sort® recycling, which will have you spending less time sorting through all your material and more time enjoying the things you love. Turn to Casella as your recycling service in Newfield to help the environment and yourself.
Ready to get started? Simply fill out our online form or call us today at 607-216-9019 to find out more.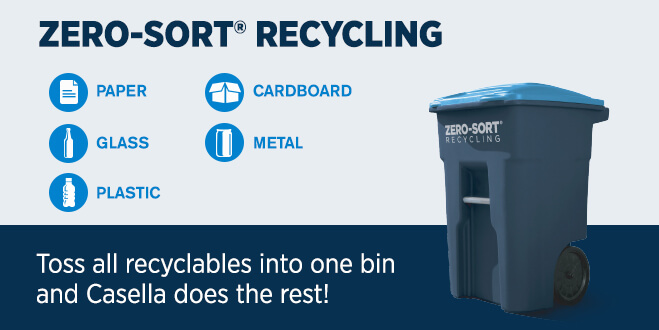 Recycling in Newfield - Casella Makes it Effortless!
When you choose to use our recycling services in Newfield, you're taking a vital, responsible step in helping to ensure the sustainability of our environment. When it comes to creating a greener tomorrow, we know better than anyone just how big the job is, which is why we've designed state-of-the-art recycling facilities to give us a helping hand. Casella will continue to provide the incomparable recycling service in Newfield that our consumers have been expecting as well as, promoting our recycling service to the upcoming generation.
Find Out How Zero-Sort® Recycling Means Zero Stress
Want to find a recycling service in Newfield, but hate having to sort your recyclables? Zero-Sort® recycling from Casella, is the fast and easy way to recycle, because we do the sorting for you! Casella's recycling programs for both home and office accept paper, cardboard, aluminum, plastic bottles, glass bottles or tin cans.
Saves Time – We'll evaluate your recycling needs and set up a system that helps you achieve your goals
Saves Money – It's less expensive to recycle, because we help divert your resources from landfills
Saves Effort – We can take care of your solid waste, so you aren't left holding the bag
Aside from leaving more room in our nation's landfills, recycling services in Newfield aids in the conservation of precious, natural resources. Call today to experience the outstanding value Casella offers our clients everyday. Casella recycling in Newfield strives to save energy and protect nature by effectively recycling the waste generated.
You can expect Casella to provide you with an extremely smooth sailing transition when you switch to our recycling in Newfield. Our sustainable solutions in converting trash to something purposeful make us proud everyday!
* Call us today to see if Zero-Sort® recycling is available in your area