Get a FREE custom quote!
or fill out a form today!
Casella Recycling in Saratoga Springs
How do you become one of the leaders in recycling in Saratoga Springs? Simply by being innovative, offering municipalities and residents environmentally responsible recycling in Saratoga Springs that has provided new life and purpose to waste. This is why, when you're looking for comprehensive solutions, you can rely on us for services like our Zero-Sort® recycling program. Contact Casella today or fill out our form to request a quote on our recycling service in Saratoga Springs.
Ready to get started? Simply fill out our online form or call us today at 518-636-4423 to find out more.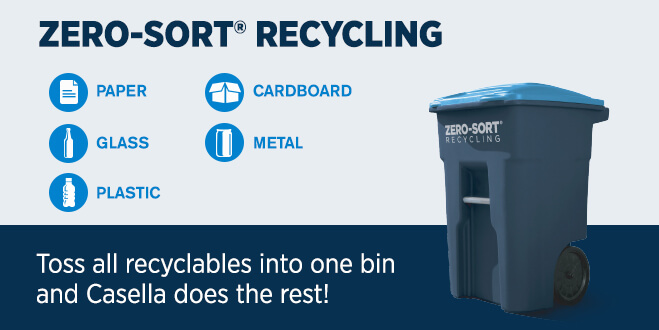 Recycling Service in Saratoga Springs for a Cleaner Tomorrow
When you choose to use our recycling services in Saratoga Springs, you're taking a vital, responsible step in helping to ensure the sustainability of our environment. We know creating a greener tomorrow is a big job, but at Casella, we want to do our part and our state-of-the-art recycling facilities are just one of the many ways we're able to. Choose recycling in Saratoga Springs from Casella today and together we can work toward a cleaner, greener tomorrow.
Find Out How Zero-Sort® Recycling Means Zero Stress
When you choose Casella recycling service in Saratoga Springs you make a significant contribution to the overall reduction of waste in Saratoga Springs. If you have a small business or a business with multiple locations, Casella can meet your recycling needs in Saratoga Springs - no matter what business you're in. Contact Casella today if you need to recycle paper, cardboard aluminum, plastic bottles, glass bottles or tin cans.
Saves Time – We'll evaluate your recycling needs and set up a system that helps you achieve your goals
Saves Money – It's less expensive to recycle, because we help divert your resources from landfills
Saves Effort – We can take care of your solid waste, so you aren't left holding the bag
By simplifying our recycling service in Saratoga Springs with Zero-Sort® recycling, Casella's recycling rates have skyrocketed among households and businesses. We do the sorting for you at one of seven of our material processing facilities that are Zero-Sort® recycling equipped. Our recycling service in Saratoga Springs take up less energy, maintain our natural resources and reduce the waste production.
Join with Casella in creating a healthy, more sustainable tomorrow by choosing recycling service in Saratoga Springs. For generations we have made, protecting environmental resources, enhancing our people, and working hard to improve the communities where we live and work a priority.
* Call us today to see if Zero-Sort® recycling is available in your area