Get a FREE custom quote!
or fill out a form today!
Recycling from Casella
For over 40 years, Casella has helped to keep neighborhoods safe and clean with responsible, sustainable recycling services. No matter if it's your home or business that requires waste and recycling service, you can count on us to have innovative solutions such as Zero-Sort® recycling. Your only job is filling the single bin: we do the rest. Simply call us today to set up your customized, convenient pickup service.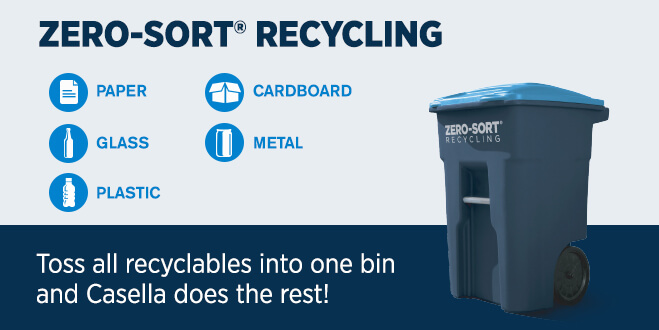 Choose Casella for Sustainable Solutions
On top of our environmental programs, we place a premium on courteous customer care. That means we'll be where you want us to be, when you need us to be there, getting the job done right. You can also call on us for a wide range of related services, including dumpster rental and compactor services. So if you share our concern for the world's wellbeing, we're the people to trust with all of your recycling needs.
We Cater to Your Needs
Beyond our commitment to the environment is our dedication to our customers. We're always here to answer any questions you may have and walk you through your options so you can get the recycling plan that fits your lifestyle and budget best. You can also choose the frequency of pickup that's right for you. For example, if your household is larger than four members, you might opt for weekly recycling, while smaller households may only need recycling pickup every other week.
So How Does it Work?
As we work to make waste removal more efficient and effective, we understand that everything is connected — and that renewing the lifecycle of the products we consume is a critical step in reducing waste. In other words, it's essential to find new and innovative ways to give trash new purpose and transform it into a resource. Having opened our first recycling center in 1977, Casella today operates recycling facilities throughout the Northeast and has invested in infrastructure and research and development to make recycling easier for our customers. Our recycling services include:
Zero-Sort® recycling: Recycling doesn't have to be dirty, difficult and time-consuming! Simply put all of your recyclables into one container — paper, plastics, metals — and we'll take care of the hard work, separating material at our facilities so it can be recycled and reused.
Electronics recycling: Modern devices have a limited lifespan, but there's no need to send your old gadgets to a landfill. Drop off your old electronics (also known as e-waste) at your local Casella drop-off center and we'll make sure it's disposed of in an environmentally responsible way.