Get a FREE custom quote!
or fill out a form today!
Recycling in South Portland
How does one contain the courage and strength to become a top leader for recycling in South Portland? By being an innovator - offering residential and municipal environmentally friendly recycling service in South Portland that puts all materials to good use; that's how! With us, you can benefit from programs like Zero-Sort® recycling -- a service that takes the hassle out of recycling, because we sort through your materials for you. Together, we can help transform waste into a resource - Call Casella recycling service in South Portland today!
Ready to get started? Simply fill out our online form or call us today at 207-405-2524 to find out more.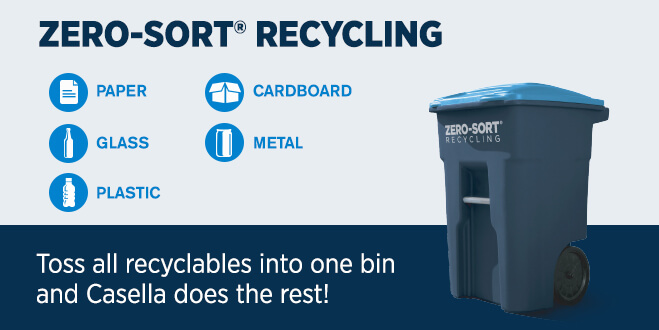 Professional Recycling in South Portland
Our approach to recycling in South Portland is not only innovative; it's also a crucial step in renewing the life-cycle of the products we consume. As part of our dedication to creating a greener tomorrow, we've created state-of-the-arm recycling facilities to help our material collecting, sorting and renewing efforts. This is only one part of Casella's mission to continue providing recycling service in South Portland, as well as other environmentally friendly waste control solutions.
Find Out How Zero-Sort® Recycling Means Zero Stress
With our recycling in South Portland, you can leave the sorting to us. Zero-Sort® recycling from Casella, is the fast and easy way to recycle, because we do the sorting for you! Contact Casella today if you need to recycle paper, cardboard aluminum, plastic bottles, glass bottles or tin cans.
Saves Time – We'll evaluate your recycling needs and set up a system that helps you achieve your goals
Saves Money – It's less expensive to recycle, because we help divert your resources from landfills
Saves Effort – We can take care of your solid waste, so you aren't left holding the bag
Aside from leaving more room in our nation's landfills, recycling services in South Portland aids in the conservation of precious, natural resources. Our recycling service in South Portland take up less energy, maintain our natural resources and reduce the waste production.
Switch to Casella for reliable and environmentally positive recycling in South Portland. Like our hundreds of satisfied clients, you too can look forward to a great team of people and exceptional service that benefits the environment and the communities where we operate in.
* Call us today to see if Zero-Sort® recycling is available in your area