Get a FREE custom quote!
Call 603-952-4700
or fill out a form today!
Make a Difference with Recycling Service in Pelham
At Casella, we believe that recycling in Pelham is innovative and an important step in renewing the products we consume. We know creating a greener tomorrow is a big job, but at Casella, we want to do our part and our state-of-the-art recycling facilities are just one of the many ways we're able to. Choose recycling in Pelham from Casella today and together we can work toward a cleaner, greener tomorrow.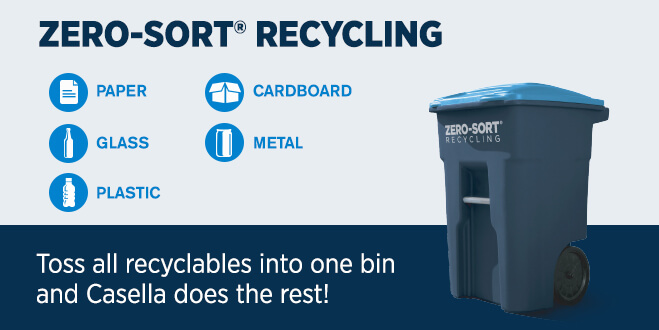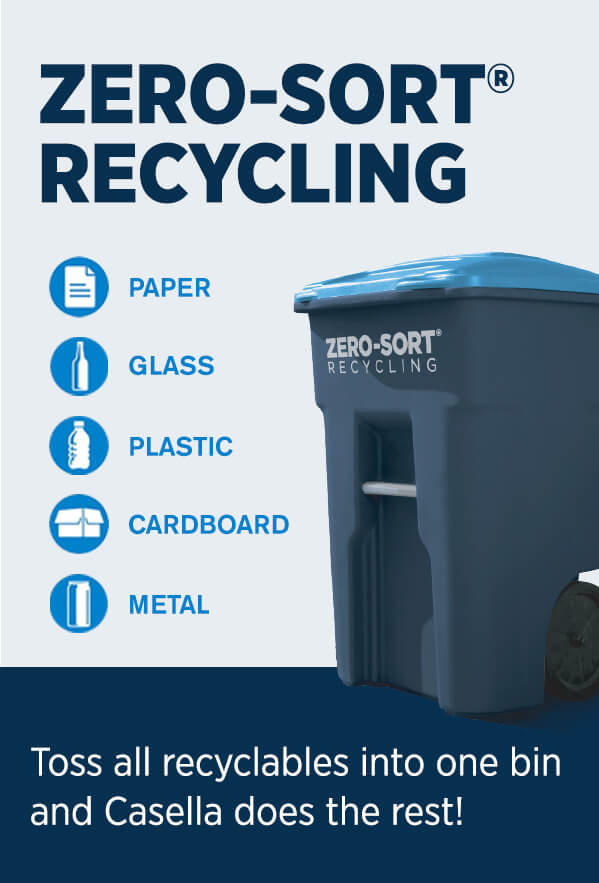 Casella Recycling Service in Pelham: for a More Sustainable Tomorrow
When looking for a recycling service in Pelham keep in mind that Casella has become an industry leader by proactively seeking out environmentally responsible waste control solutions. By placing an emphasis on innovation and environmental responsibility, Casella provides recycling in Pelham that other compies look to as an example. In fact, you'll discover it in any of our services like the Zero-Sort® recycling program, a single bin solution that takes the hassle of sorting out of recycling. Call to arrange your recycling in Pelham from Casella, today.
Ready to get started? Simply fill out our online form or call us today at 603-952-4700 to find out more.
Find Out How Zero-Sort® Recycling Means Zero Stress
Want to find a recycling service in Pelham, but hate having to sort your recyclables? That's less waste that would otherwise need to be buried or burned. Contact Casella today if you need to recycle paper, cardboard aluminum, plastic bottles, glass bottles or tin cans.
Saves Time – We'll evaluate your recycling needs and set up a system that helps you achieve your goals
Saves Money – It's less expensive to recycle, because we help divert your resources from landfills
Saves Effort – We can take care of your solid waste, so you aren't left holding the bag
By simplifying our recycling service in Pelham with Zero-Sort® recycling, Casella's recycling rates have skyrocketed among households and businesses. We make cans into more cans, we transform paper to insulation and steel becomes a part of cars! Our recycling service in Pelham take up less energy, maintain our natural resources and reduce the waste production.
Let Casella provide your recycling service in Pelham and let us partner with you to ensure a healthier, more sustainable tomorrow. We are committed to innovation, protecting the environment and transforming solid waste into renewable resources.
* Call us today to see if Zero-Sort® recycling is available in your area