Get a FREE custom quote!
or fill out a form today!
Recycling in New Hampshire that Puts You First
Casella is your reliable source for recycling in New Hampshire that's dedicated to keeping your neighborhood clean and green for years to come. When it comes to recycling, we're known as industry pioneers because of great solutions like our Zero-Sort® recycling program – a single bin system where we do all the sorting for you. Request more information about Casella recycling in New Hampshire or ask about a quote, today.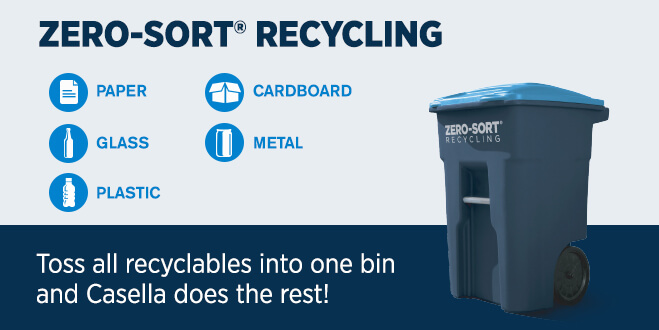 Recycling in New Hampshire: Providing Dependable Service
Casella provides recycling service in New Hampshire that's reliably scheduled and easy to use, allowing you to participate in more environmentally friendly waste control practices with ease. Our recycling in New Hampshire is built upon the same solid foundation of reliable service and quality customer care that grounds all Casella waste control services. You can count on Casella to meet your immediate waste control needs, as well as the needs of generations to come, through recycling in New Hampshire and other environmentally considerate services.
More than Just Recycling Services in New Hampshire
When you need more than basic recycling service in New Hampshire you can count on Casella for additional waste control solutions as well. We provide dependable trash pick up and can also supply any size roll off trash dumpsters you might need. That's just one of the ways we set ourselves apart from other companies providing recycling services in New Hampshire.
Casella Provides a Range of Solutions Including Recycling Service in New Hampshire that:
Save Time

– We'll evaluate your recycling needs and set up a system that helps you achieve your goals

Save Money

– It's less expensive to recycle, because we help divert your resources from landfills

Save Effort

– We can take care of your solid waste, so you aren't left holding the bag
* Call us today to see if Zero-Sort® recycling is available in your area