Get a FREE custom quote!
Call 315-842-4067
or fill out a form today!
Casella Recycling in Malone
The innovative method to our recycling service in Malone is a vital stage in renewing waste. With the help of our state-of-the-art recycling facilities, we've taken a critical step towards creating a more sustainable environment by means of collecting, sorting and renewing the lifecycle of materials. Casella will continue to provide the incomparable recycling service in Malone that our consumers have been expecting as well as, promoting our recycling service to the upcoming generation.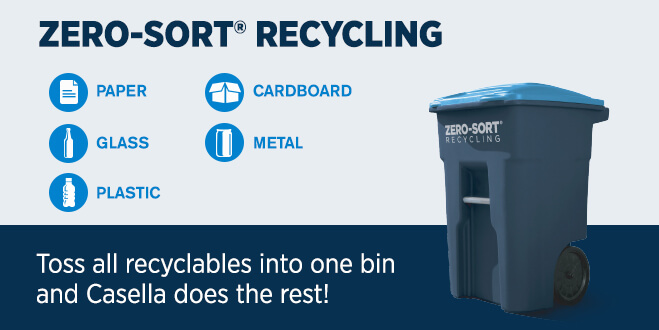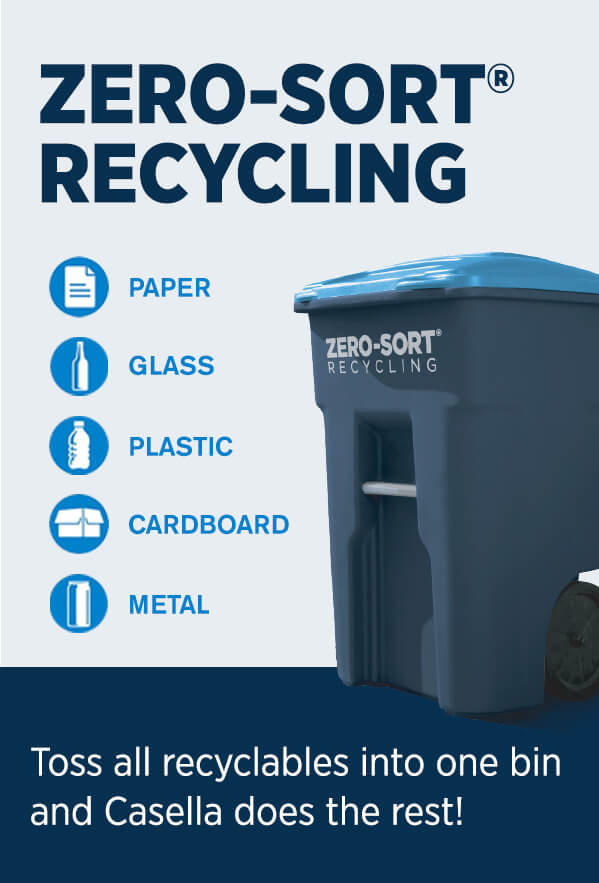 Recycling in Malone: Let's Maintain a Green Environment
What makes Casella, your local providers of recycling in Malone an industry leader? Casella provides recycling that takes an environmental approach. This is why you can rely on us to provide innovative solutions to your waste resource needs, including Zero-Sort® recycling, which saves you from the trouble of sorting because we'll gladly do the job. Request your Casella support service member for your quote on recycling in Malone and we'll exceed expectation with pleasant service.
Ready to get started? Simply fill out our online form or call us today at 315-842-4067 to find out more.
Find Out How Zero-Sort® Recycling Means Zero Stress
Want to find a recycling service in Malone, but hate having to sort your recyclables? Casella continues to lead the way in reducing waste by introducing Zero-Sort® recycling - a larger bin with one label that just says recycling for all your recyclables like: Contact Casella today if you need to recycle paper, cardboard aluminum, plastic bottles, glass bottles or tin cans.
Saves Time – We'll evaluate your recycling needs and set up a system that helps you achieve your goals
Saves Money – It's less expensive to recycle, because we help divert your resources from landfills
Saves Effort – We can take care of your solid waste, so you aren't left holding the bag
Casella's recycling services in Malone reduces the waste buried in state landfills and aids turns trash into reusable materials. We do the sorting for you at one of seven of our material processing facilities that are Zero-Sort® recycling equipped. Casella continues to turn waste into a renewable source-our recycling in Malone really do make a better living, one day at a time.
At Casella, we want to provide recycling service in Malone and other services that help make our environment a better place. A legacy of superior customer service since 1975 complemented by a dedicated team of professionals who support each other, with an environmentally-sound work ethic that enhances the overall quality of the community.
* Call us today to see if Zero-Sort® recycling is available in your area