Get a FREE custom quote!
or fill out a form today!
Recycling in Arlington
Over the years, Casella has become a local waste control leader, providing innovative recycling services in Arlington. Our recycling service in Arlington place an emphasis on innovation and ensuring that more people take part in helping to sustain our environment. With comprehensive services, including our Zero-Sort® recycling program – a single-bin hassle free approach to recycling – we're your reliable choice for waste resource solutions. Call to arrange your recycling in Arlington from Casella, today.
Ready to get started? Simply fill out our online form or call us today at 802-681-4084 to find out more.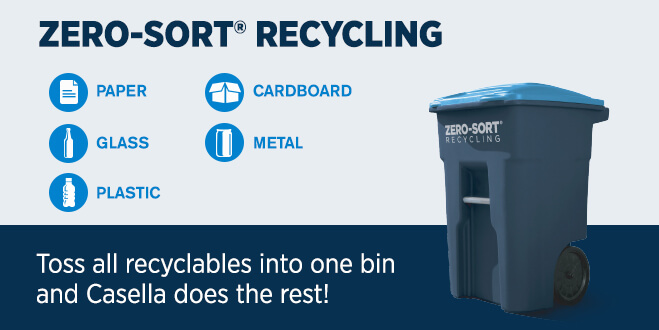 Recycling Service in Arlington for a Cleaner Tomorrow
If contracting an innovative recycling provider in Arlington is an important part of your environmentally friendly waste strategy, Casella is the ideal choice. Our materials recycling facilities are state-of-the-art to take on the big job of creating a greener tomorrow. This is only one part of Casella's mission to continue providing recycling service in Arlington, as well as other environmentally friendly waste control solutions.
Experience the Difference with Zero-Sort® recycling
Casella's recycling in Arlington recycles out of the waste flow and creates one less pound of waste that is mined, smelt or mill. If you have a small business or a business with multiple locations, Casella can meet your recycling needs in Arlington - no matter what business you're in. We provide recycling services for both home and office and accept the following: paper, cardboard aluminum, plastic bottles, glass bottles or tin cans.
Saves Time – We'll evaluate your recycling needs and set up a system that helps you achieve your goals
Saves Money – It's less expensive to recycle, because we help divert your resources from landfills
Saves Effort – We can take care of your solid waste, so you aren't left holding the bag
Aside from leaving more room in our nation's landfills, recycling services in Arlington aids in the conservation of precious, natural resources. Our customer service staff is available to help you choose the right size container and service level for your specific job. Our recycling service in Arlington take up less energy, maintain our natural resources and reduce the waste production.
Are you ready to help create a more sustainable tomorrow? Contact Casella about our recycling service in Arlington today. Like our hundreds of satisfied clients, you too can look forward to a great team of people and exceptional service that benefits the environment and the communities where we operate in.
* Call us today to see if Zero-Sort® recycling is available in your area