Get a FREE custom quote!
or fill out a form today!
Recycling Service in Vermont
For over 40 years Casella has been the name synonymous with exceptional waste control services, and most recently with dependable, environmentally conscious recycling in Vermont. It's innovative waste resource solutions like our Zero-Sort® recycling program that sets us apart, and the reason we're considered pioneers in the waste industry. Consult a Casella representative for more information about recycling service in Vermont, today.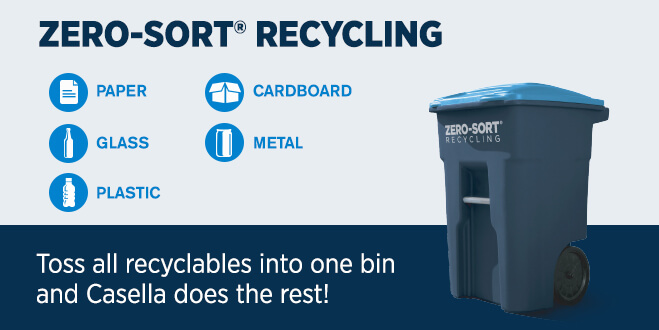 Reliable Recycling Service in Vermont
At the heart of Casella's Recycling Service in Vermont is the belief that "trash" is actually a renewable resource. We believe in providing our customers with top quality waste control services and a superior level of customer service, all topped off with a commitment to environmental responsibility. We are committed to supporting a more sustainable future through recycling programs, which includes renewing the life-cycle of products we consume.
Comprehensive Waste Resource Solutions from Casella
Casella's recycling service in Vermont provide reliable, professional service and so much more. We provide dependable trash pickup and can also supply any size roll off trash dumpsters you might need. Talk to a local Casella rep today to learn more about our recycling service in Vermont and other waste control solutions.
Casella Provides a Range of Solutions Including Recycling Service in Vermont that:
Save Time

– We'll evaluate your recycling needs and set up a system that helps you achieve your goals

Save Money

– It's less expensive to recycle, because we help divert your resources from landfills

Save Effort

– We can take care of your solid waste, so you aren't left holding the bag
* Call us today to see if Zero-Sort® recycling is available in your area