Get a FREE custom quote!
Call 603-865-3340
or fill out a form today!
Professional Recycling in Claremont
At Casella, we believe that recycling in Claremont is innovative and an important step in renewing the products we consume. We're dedicated to seeing a greener tomorrow, which is why we have state-of-the-art recycling facilities to help get the job done right. Casella provides outstanding recycling in Claremont that customers value the most.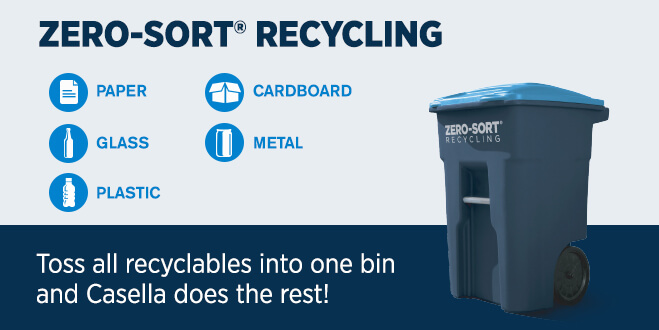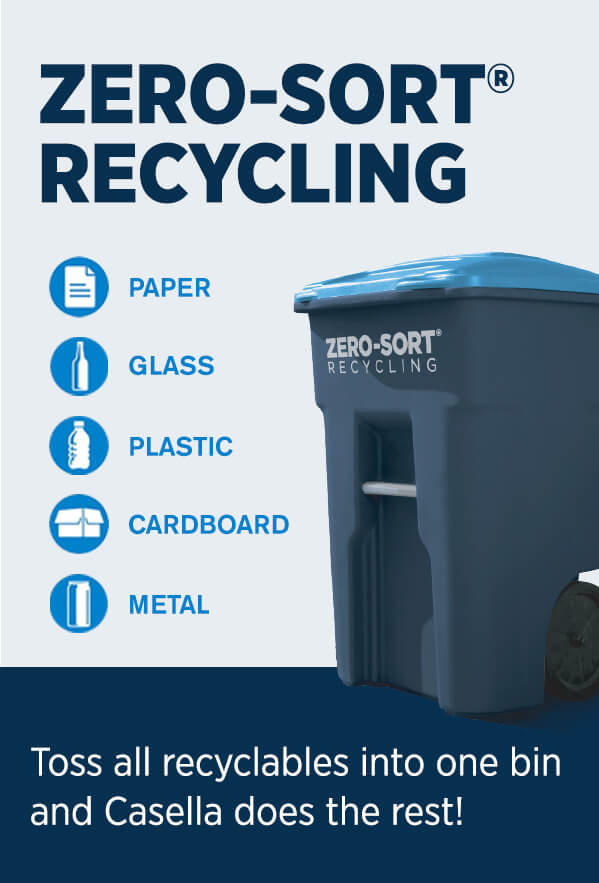 Comfortably Rent Recycling in Claremont
Casella provides recycling in Claremont to a wide range of clients, including residents, municipalities and businesses. We have a reputation for providing recycling that is prompt, reliable and efficient. This includes innovative services like our Zero-Sort® recycling program, which saves you from having to sort your recycling because we do it. Call to arrange your recycling in Claremont from Casella, today.
Ready to get started? Simply fill out our online form or call us today at 603-865-3340 to find out more.
Find Out How Zero-Sort® Recycling Means Zero Stress
Every pound we recycle becomes one less pound of mining, melting, or milling products. Every pound recycled is one less pound buried or burnt. Casella is your best option in renewing our planet's valuable resources through the recycling of materials such as: Contact Casella today if you need to recycle paper, cardboard aluminum, plastic bottles, glass bottles or tin cans.
Saves Time – We'll evaluate your recycling needs and set up a system that helps you achieve your goals
Saves Money – It's less expensive to recycle, because we help divert your resources from landfills
Saves Effort – We can take care of your solid waste, so you aren't left holding the bag
Casella's recycling services in Claremont reduces the waste buried in state landfills and aids turns trash into reusable materials. Paper becomes insulation and steel becomes car parts and accessories. Our recycling service in Claremont take up less energy, maintain our natural resources and reduce the waste production.
In addition to wanting to ensure that your home or place of business is tidy and sanitary, at Casella, we also believe in doing our best to create a better environment. We continue to work for environmental resources, building our people, and improving the communities around us.
* Call us today to see if Zero-Sort® recycling is available in your area