Get a FREE custom quote!
or fill out a form today!
Recycling in Potsdam
How does one contain the courage and strength to become a top leader for recycling in Potsdam? By being an innovator - offering residential and municipal environmentally friendly recycling service in Potsdam that puts all materials to good use; that's how! This is why, when you're looking for comprehensive solutions, you can rely on us for services like our Zero-Sort® recycling program. Contact us today for a quote or to learn more about recycling services in Potsdam from Casella.
Ready to get started? Simply fill out our online form or call us today at 315-842-4067 to find out more.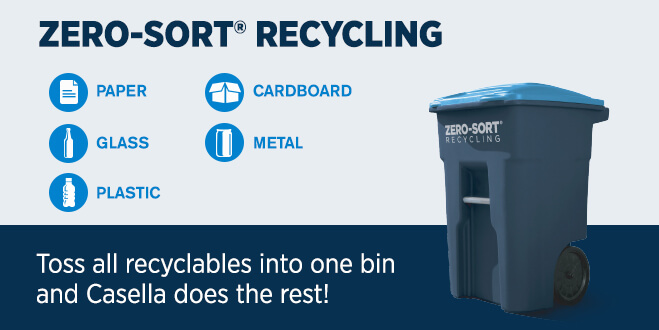 Recycling in Potsdam Made Easy With Casella!
When you choose to use our recycling services in Potsdam, you're taking a vital, responsible step in helping to ensure the sustainability of our environment. We have state-of-the-art recycling facilities that can be found all across the Northeast dedicated to collecting, sorting and renewing materials; a critical step in reducing waste. Casella is able to continue its excellent technologies by providing quality recycling services in Potsdam that clients anticipate.
Experience the Difference with Zero-Sort® recycling
With our recycling in Potsdam, you can leave the sorting to us. Zero-Sort® recycling from Casella, is the fast and easy way to recycle, because we do the sorting for you! We provide recycling services for both home and office and accept the following: paper, cardboard aluminum, plastic bottles, glass bottles or tin cans.
Saves Time – We'll evaluate your recycling needs and set up a system that helps you achieve your goals
Saves Money – It's less expensive to recycle, because we help divert your resources from landfills
Saves Effort – We can take care of your solid waste, so you aren't left holding the bag
Casella's recycling in Potsdam constantly makes more from less. To support our professional service, we make sure our knowledgeable staff assists you with receiving the right size container and service level for your waste control needs. Casella recycling in Potsdam strives to save energy and protect nature by effectively recycling the waste generated.
Switch to Casella for reliable and environmentally positive recycling in Potsdam. Casella's waste resource solutions, including our recycling in Potsdam are designed to promote a cleaner city that remains healthy and sustainable well into the future.
* Call us today to see if Zero-Sort® recycling is available in your area